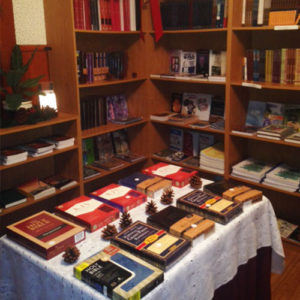 Bookstore
Our Bookstore is provided for the members of our church to build their libraries with good sound Bible based books. It is open during church services.
Bus Ministry
The Bus ministry is a service of our church for those in need of transportation to and from church for any service. We happily pickup from Monterey, Carmel, Seaside, Sand City, Defense Language Institute, California State University Monterey Bay, Marina, Castroville, Prunedale, and Salinas.
To make arrangements for a ride, please call:
(831) 375-7082: Mon-Fri 8:00am-5:00pm
Nursery
We have separated nursery for ages newborn to the age of three.
Children's Ministry
On Sundays, during the morning service, our children, aged four years old through ten, meet in the Fellowship Hall for their own worship service. It is a service of singing, Bible study, and worship that is on the level of the children.
On Wednesdays, during the 7pm evening service, our Flyer's Club, King's Kids and TRAC Clubs meet.
Flyers Club: Age 4-6
King's Kids: Age 7-10
TRAC (Teens Redeemed And Called): Age 11-17
"But Jesus said, Suffer little children, and forbid them not, to come unto me: for of such is the kingdom of heaven." Matthew 19:14
Teen Ministry
Our teens are upon scheduled days challenged to interact with our teen department. They have special conferences to attend yearly, youth rally's, local activities, etc.
Sunday School
We have Sunday school for all ages. We endeavor to teach with a balanced blend of sound Bible doctrine and practical training. These classes are taught by dedicated Christian lay-people and the pastoral staff of our church.
Pre-Primary class: Ages 4-6: Mrs. Hannah Inopiquez teaches the children basic Bible stories.
Primary Class: Ages 7-10: Mrs. Jane Wallace teaches Basic Bible principals.
Teen class: Ages 11-17: Bro. George Solomon teaches sound Bible Doctrine to prepare them for adulthood.
ABCs class: Pastor William Wallace teaches new adult Believers the basics of the Bible.
Auditorium Adult class: Bro. Patrick Brown teaches the adult Sunday School class. His purpose is to prepare others to teach the Bible.